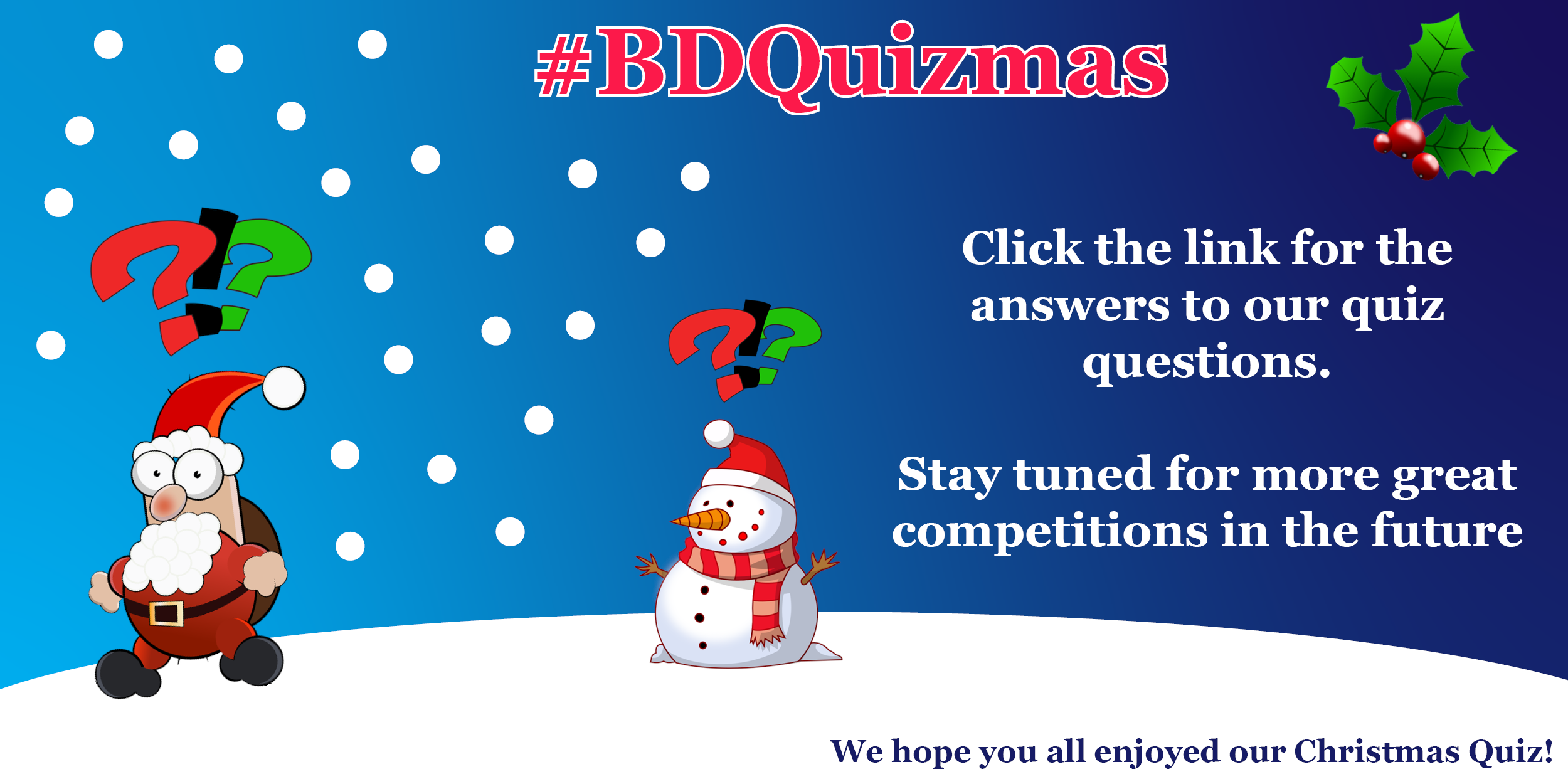 BDQuizmas Answers
We hope you all enjoyed our BDQuizmas competition! We're hard at work preparing the draw for the winner and will announce our winner in due course. Please find the answers we used to judge entries below:
| | |
| --- | --- |
| What is the first name of the boy who is left "Home Alone" in the film of the same name? | Kevin |
| Which famous author wrote the book "A Christmas Carol?" | Charles Dickens |
| Which company is associated with changing the colour of Santa from green to red? | Coca-Cola |
| Name one of the two countries which own a territory called "Christmas Island." | Australia/Kiribati |
| Which country traditionally gifts the Christmas tree that stands in Trafalgar Square? | Norway |
| How many "Geese-a-laying" are there in the 12 days of Christmas? | 6 |
| According to the traditional Nativity story, Jesus was born in which city? | Bethlehem |
| Which comedy actor plays the main character 'Buddy' in the film "Elf?" | Will Ferrell |
| Which famous scientist was born on Christmas Day 1642? | (Sir) Isaac Newton |
| Emilia Clarke works at an all-year round Christmas shop in which 2019 film? | Last Christmas |
| Which group had the Christmas Number One in the UK each year from 1996-1998? | The Spice Girls |
| Which character wants to steal Christmas in the book by Dr. Seuss? | The Grinch |
| St. Nicholas was born in which modern-day country? | Turkey |
| Which Bruce Willis film was voted by Empire magazine as "The Greatest Christmas Film of all Time" in 2010? | Die Hard |
| Lapland is located in which country? | Finland |
| In which year was Band Aid's "Do They Know It's Christmas" first released? | 1984 |
| Which city do the Pogues and Kirtsy MacColl sing about in their famous Christmas song? | New York |
| Which King was crowned on Christmas Day in 1066? | William I (The Conqueror) |
| Hugh Grant plays the Prime Minister in which Christmas-themed film? | Love Actually |
| The Christmas Truce was the premise of an advert by which British supermarket chain in 2014? | Sainsbury's |
| Which X Factor winner had the UK's Christmas Number One in 2006? | Leona Lewis |
| What was Frosty the Snowman's nose made of? | A Button |
| What bird is traditionally served as the main course of a Christmas dinner? | Turkey |
Competition Terms and Conditions
Why not share this on social media?