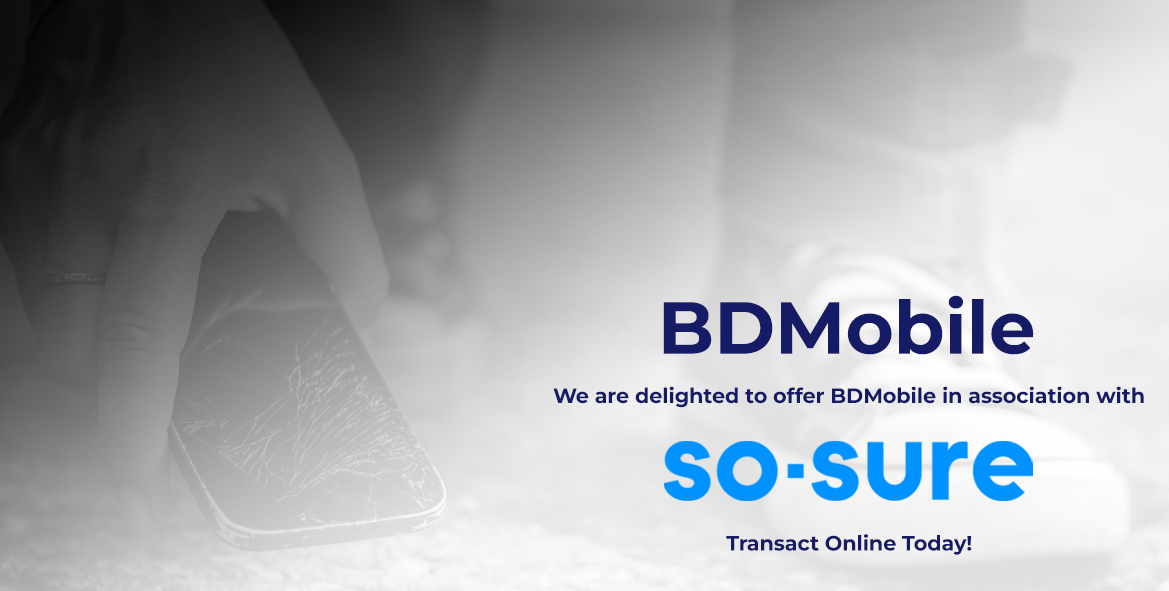 BDMobile
With mobile phone ownership in the UK being close to saturation point and the cost of repair replacement being considerable, there is a tangible need for your clients to consider mobile phone insurance. BDMobile can arrange this cover for all phones up to 3 years old.
Gold cover – Phone replaced in 24hrs, repaired in 72 hrs
Platinum cover – Immediate replacement with new phone
Business cover – SME multiphone business cover (5 – 100+ handsets)
Commission
20% for New Business and Renewals.
Key Features
Phone replaced within 24 hrs, repaired within 72hrs*.
Insured in seconds – without lots of exclusions.
No long forms or paper proof of owning your phone.
No sneaky cancellation fees, admin or hidden charges.
Low excess.
Never change price at renewal – in fact we lower them.
*Same day replacement handset for Platinum Customers.
What's Covered
Theft and loss as standard.
Accidental damage, including water damage and cracked screens.
New, used or refurbished phones up to 3 years old.
Accessories up to the value of £100 including VAT.
Unauthorised network charges up to £1000.
Out of warranty breakdown.
90 days global travel.
What's Not Covered
Any existing claim before you bought our insurance.
More than 2 claims for Loss and/or Theft in any policy year.
Claims where you've knowingly put your mobile phone at risk.
How Transacted
Online quote and policy issue via this website.
Availability
Available in Great Britain and Northern Ireland.
Register
If, you do not have a broker direct account you will need to register to transact business.
Questions?
If you have any questions relating to our BDMobile policy please contact … dedicated team who can assist you with any queries you may have. Please call …
Making a claim?
If you need to make a claim you can do so by contacting … on …
Personal Lines Products
We have a range of insurance products that are suited for individuals and families, we have a solution for you.
Become a BD Broker
We support you and your business to succeed by offering you the best products at competitive rates
Find a broker
Need a broker you can trust? We can help you find your local BD Broker contact us on 01204 600 200